ArcSoft Panoramamaker can merge multiple photos into a single image, adjusting for changes in contrast and lense distortion.
Here's an image from a vantage point above Redcone and Webster jeep trails. My jeep is barely visible at the junction of the two trails. Redcone is the pass ascending the narrow ridge, Webster descends into the valley.

Here's a nearly 360 degree view taken from the top of Grussmuenster, a church in downtown Zuerich near Jonas's house. The image was created by shooting a total of 8 images, each offset by 45 degrees, two from each corner of the tower deck.

The resulting full image has the incredible resolution of 14,757 x 1,673. Here it is at about 1/100th that size…
here's a zoom on the more interesting portion of the pic..
and here's a deeper zoom to show some of the detail..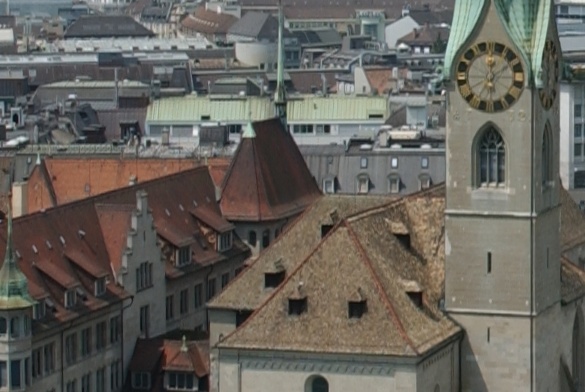 here's an image from the other side of the river..