S600 at 2004/2005 Winter Series Event
S600 at 2004/2005 Winter Series Event
Dad was very generous and allowed me to borrow his S600 for a day, so I took it to the Rocky Mountain Division Winter Series SoloII Event #1 of the 2004/2005 season.
Several people thought this was a joke. A week before the event, when I pre-registered to enter the car into the event, I got an email saying "so.. you think you have that Mercedes classed right in F-Stock? LOL".
Other cars in F-Stock include the Mustang Mach I, V8 Camaros, Mitsubishi 3000GT Turbo, etc… typically higher-horsepower sports cars which don't quite have the handling to compete in SS, AS or BS (the three stock classes which have more difficult indexes than FS).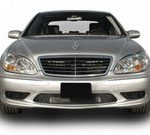 I searched autocross sites across the country for an instance of an S600 entered in competition, but couldn't find one. Nonetheless, according to SCCA rules, the S600 isn't specifically excluded, and FS is the catch-all class for Mercedes V12's not otherwise classified. [Yeah.. too bad Dad doesn't have an SL65 :/].
On the one hand, the S600 is an incredible car. The 5.5L twin turbo-charged V12 outputs 493HP and generates nearly 600ft-lbs of torque. That's enough power to squish every square inch of your body into the plush heated seat with such extreme force that it is difficult to reach the navigation system controls or see clearly what song is playing on the satellite radio console… not to mention what's going on in the road as it rushes very suddenly yet silently past.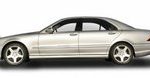 On the other hand, the car is 20″ longer than anything else at the track and weighs 4,610 lbs.. that's 1500lbs more than the Corvette.
Without race tires for the car, I entered it in A-Street Tire (AT), an indexed class which includes cars from SS, AS, BS and FS all running on DOT street tires.
Much to the dismay of the driver of a Mustang Cobra, the S600 managed 1st in AT and 18th of 77 overall…
Winter Series #1, 2005/01/02 Full Results
Winter Series #1, 2005/01/02 Indexed Results
With race tires and better driving, looks like it might be possible to score close to the top of the overall index. But, don't think I'll push my luck, though. At least, not in a borrowed S600.