2004 RMDiv Solo2 Winter Series
2004 RMDiv Solo2 Winter Series
The rocky mountain division 2004/2005 winter series ended yesterday.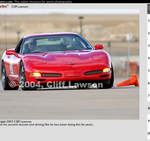 Event #1 – 1st in A-Street Tire, 18th of 77 drivers
Event #2 – 2nd in Super Stock, 24th of 93 drivers
Event #3 – 2nd in Super Stock, 34th of 170 drivers
Event #4 – 2nd in Super Stock, 9th of 167 drivers
The last event of the winter marks the first time I've finished in the top-ten overall.
Equally exciting was crushing the Lotus Elise. For the last year, there's been heated debate whether or not the Elise would end the Z06's reign of dominance in Super Stock.
Not so quick, even in the hands of John Ames, many time and current national champion.
Piloting the Lotus, John finished 5th in super stock and 33rd in the overall driver rankings.