AOD255e upgrade
AOD255e upgrade
AOD255e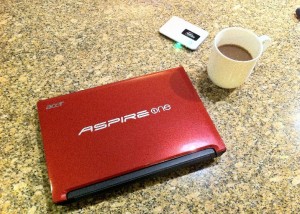 The new Acer Aspire One AOD255E features intel's new dual-core Atom n570.
The n570 is the first n-series Atom chip to include hardware virtualization (or VT-x) extensions. Add dual cores with hyperthreading, and the system has the potential to perform more like a higher end notebook.
Not bad for $329, but the system ships with only 1GB of RAM and a 250GB mechanical HD.
SSD and RAM Upgrade
To bring these components up to par with the processor, increase the performance and reliability, I opted for a 128GB SSD and 2GB DDR3 memory module.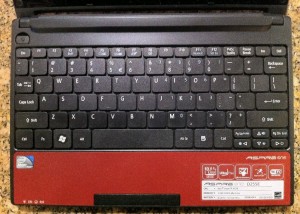 Although AOD255e isn't designed to be user serviceable, replacing the HD and RAM isn't too difficult.
Power off the machine and remove the battery
Locate the tabs along the upper edge of the keyboard above the F1, F4, F8, F12 and DEL keys.
Using a flat-head screwdriver and working from right to left, starting above the DEL key, carefully depress each tab and pry up the edge of the keyboard.
Once all of the tabs are depressed and the upper edge of the keyboard released, it can be carefully removed.
Remove all the screws marked "1"
Push a blunt object through the access hole marked, releasing the access panel on the bottom of the system.
Locate and replace the desired components
Fedora
Finally, I replaced Windows 7 with Fedora 14. Yes, it is indeed twice as good, maybe more… :/
System runs very smoothly with KDE4 and all visual effects enabled.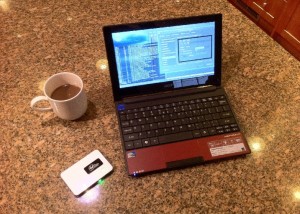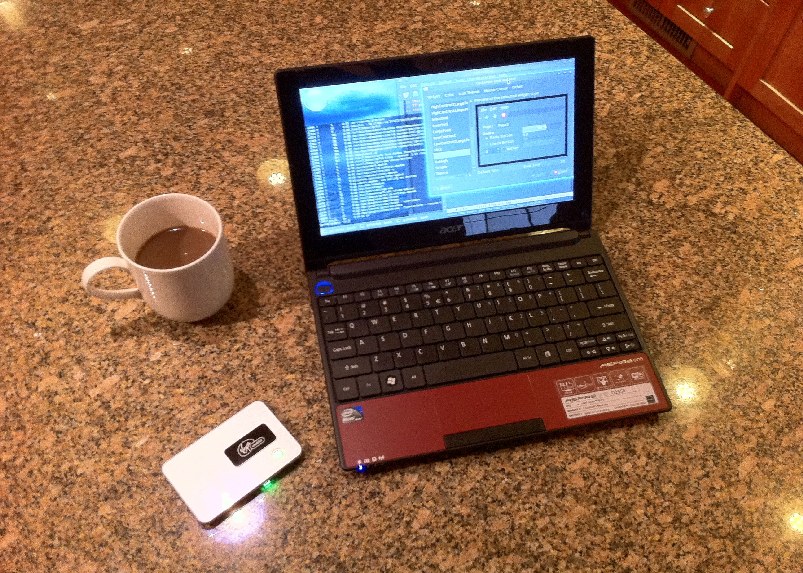 Here's /proc/cpuinfo showing dual cores with 2 hyperthreaded execution units each and 'vmx' flag indicating VT-x support.

processor : 3
vendor_id : GenuineIntel
cpu family : 6
model : 28
model name : Intel(R) Atom(TM) CPU N570 @ 1.66GHz
stepping : 10
cpu MHz : 1000.000
cache size : 512 KB
physical id : 0
siblings : 4
core id : 1
cpu cores : 2
apicid : 3
initial apicid : 3
fpu : yes
fpu_exception : yes
cpuid level : 10
wp : yes
flags : fpu vme de pse tsc msr pae mce cx8 apic sep mtrr pge mca cmov pat pse36 clflush dts acpi mmx fxsr sse sse2 ss ht tm pbe syscall nx lm constant_tsc arch_perfmon pebs bts rep_good aperfmperf pni dtes64 monitor ds_cpl vmx est tm2 ssse3 cx16 xtpr pdcm movbe lahf_lm tpr_shadow vnmi flexpriority
bogomips : 3325.21
clflush size : 64
cache_alignment : 64
address sizes : 36 bits physical, 48 bits virtual
power management:

To perform the upgrade to Fedora, I used 'BFO', a small network bootloader.
The BFO boot image is only 300KB, can be written to a USB stick and used to do a network-based bootstrap of the Fedora installation process. Find Fedora's BFO image here…
http://boot.fedoraproject.org
Summary
$329 – Acer Aspire One AOD255E-1664 Netbook, w/ dual-core Atom n570 and 10.1″ LED
$24 – Crucial 2GB 204-PIN PC3-8500 SODIMM DDR3 Memory Module
$240 – Kingston SSDNow V Series 128 GB SATA 3 GB/s $240 2.5″ Kingston 128GB SATA3 2.5″ SSD