2006 RMDiv Solo2 Summer Series
2006 RMDiv Solo2 Summer Series
After three years trying, I finally took the SCCA Rocky Mountain Division super-stock class title.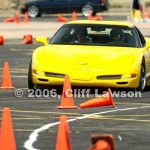 With only a two and a half second lead after eleven summer series events, the door was open for any of several drivers to take the overall win at the 12th and final event.
After watching a Lotus Elise defeat a Z06 at the national championships the previous week, I wondered if the same
scenario could materialize in the rocky mountain division at our final event.
Driving a borrowed yellow Z06, I finished .17s ahead of the next closest competitor (a Lotus Elise driver), sealing the series win.
Event Results
* Event #1 – 1st in Super Stock. 26th of 194 drivers
* Event #2 – 1st in Super Stock. 30th of 226 drivers
* Event #3 – 2nd in Super Stock. 30th of 147 drivers
* Event #4 – DNS
* Event #5 – 2nd in Super Stock. 27th of 172 drivers
* Event #6 – 1st in Super Stock. 20th of 155 drivers
* Event #7 – 1st in Super Stock. 15th of 144 drivers
* Event #8 – 2nd in Super Stock. 24th of 134 drivers
* Event #9 – 2nd in Super Stock. 142nd of 166 drivers
* Event #10 – 2nd in Super Stock. 25th of 166 drivers
* Event #11 – 3rd in Super Stock. 15th of 171 drivers
* Event #12 – 1st in Super Stock. 12th of 174 drivers
Season Results
* ranked #1 out of 11 in Super Stock
* ranked #19 out of ~1200 Rocky Mountain Division drivers
Career Rankings
* 2004 RMDiv Solo2 Summer Series – 3rd in Super Stock, #34 overall
* 2005 RMDiv Solo2 Summer Series – 2nd in Super Stock, #22 overall
* 2006 – 1st in Super Stock, #19 overall