Don Fosters Shore Dive 1
Don Fosters Shore Dive 1
Dive Stats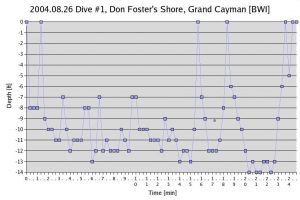 * 2004.08.26 – 9:11MST
* Don Foster's Shore, Grand Cayman, BVI
* Pat, Jeanya and Instructor
* 14 ft max depth
* 10 ft avg depth
* 40 ft visibility
* 24 minutes dive time
* 29 deg C water temperature
* 3000psi start
* ? psi end
* 10lbs weight
Details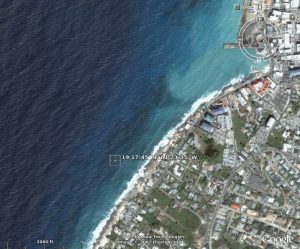 Jeanya's open water dive to complete certification.
Entered water from ladder on rocky shore at Don Foster's dive shop. Made several ascents and descents. Experienced heavy rainfall and slightly rough sea surface during surface swim.
Map shows approximate location of shore, based on recollection of walking distance from downtown George Town to the shop.